Fall/ Winter Newsletter 2022
Inside This Issue:
· Launch of Black Charities Matter
· Announcement of 2022 Chair of Black Charities Matter
· Kieta D. Mutepfa Served as Keynote Speaker of Black Charities Matter
· Board President Selected for Regional Position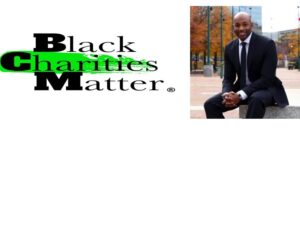 Greeting:
In observance of Black Philanthropy Month (BPM), the launch of Black Charities Matter®  which is an initiative of Community Partners, on August 28, 2022, was appropriate and a momentous occasion. Black Charities Matter® is a fund-raising campaign for Black-led nonprofits with a quantifiable goal to raise unrestricted and/or programmatic funds, increasing appreciably year over year. In addition, Black Charities Matter ® endeavors to strengthen our communities, building the capacity of Black-led nonprofits and offering a series of sessions that will focus on the aspects of transparency and accountability.
Black Charities Matter® seeks to sustain the philanthropic support, expressing unity with Black communities that was made to social justice causes after the traumatic events of 2020; however, in order to create a structural change of the philanthropic sector that requires a continuous effort with intentional action, such as Black Charities Matter® . On behalf of the Board of Directors, we are excited that each of you has joined this movement of shifting the predominant narrative through equity, diversity and inclusion.
                                                                             Stewart Q. McCall, President

MAYOR-PRESIDENT SHARON WESTON BROOME
ISSUED COMMENDATION IN ROCOGNITION OF COLLIS B. TEMPLE, JR.
Mayor-President Sharon Weston Broome issued a commendation to Collis B. Temple, Jr. as a Distinguished Citizen in recognition of his philanthropic spirit to East Baton Rouge Parish/City of Baton Rouge, and the vital role his generosity has played in ensuring a thriving community. In addition, Mr. Temple, Jr. has advocated for transparency and accountability of both nonprofits and funders, and as a result has taken on the role to serve as 2022 Chair of Community Partners' inaugural fund-raising initiative, Black Charities Matter®. Black Charities Matter® has a three-prong fund-raising approach, including requesting businesses, individuals and churches to support Black-led nonprofits.
Also, the commendation recognized Mr. Temple, Jr. as the first African American major sport's scholarship athlete to attend Louisiana State University in 1971; his collegiate basketball career, scholastic athletic honors, academic accomplishments, selection by the NBA and ABA, establishment of a nonprofit organization in 1977, and service to the community through civic involvement. The commendation included acknowledgment of him as an entrepreneur, real estate developer and builder, and a preservationist.

KIETA D. MUTEPFA SERVED AS KEYNOTE SPEAKER
Kieta D. Mutepfa served as keynote speaker for Community Partners' inaugural fund-raising initiative, Black Charities Matter®. Community Partners mission is focused on increasing awareness of philanthropy in communities of African American descent, supporting community-based nonprofits, and advocating that Black-led nonprofit organizations are funded equitably and fairly.
Kieta is deeply intentional about the work she is selected and selects to do when serving communities, resulting in a strong desire to align giving of her time, talent and treasures to the causes that will transform lives. She had a profound discussion with attendees at Community Partners Black Charities Matter®, and at one point inquired, "Just imagine if we held philanthropy to a different standard. Just imagine if you went to the foundation or to the President and CEO or those that hold donor-advised funds and said that we need you to do more. We need you to invest differently. We need you to invest more consciously. We need you to be more aware of what happens in our communities. So, if we were able to hold those accountable, can you imagine that?"
Kieta is a budding philanthropist and Founding Five member of the Women's Foundation of the South – an organization that serves Black, Latina and Asian American girls and womxn across 13 states in the Deep South and is tasked with establishing a 100-million-dollar endowment.
PRESIDENT OF COMMUNITY PARTNERS BOARD OF DIRECTORS SELECTED FOR REGIONAL POSITION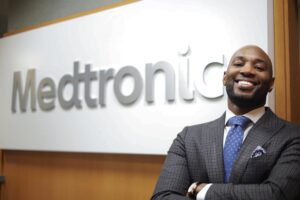 Stewart McCall was selected as the Enabling Technologies District Sales Manager for Medtronic covering LA, AR, MS, MO & KS. McCall said, "This opportunity would not be possible without the support of everyone involved for this next step of leadership, especially the unsung heroes of family, friends, mentors & colleagues. Special thanks to Shaun & Michelle for your entrustment with this incredible opportunity to lead the talented and motivated team in the South-Central Region! We look forward to continuing to do our part to carry on the mission of ​contributing to human welfare by application of our team and devices that alleviate pain, restore health, and extend life in the space of Neurosurgery and Advanced Energy."